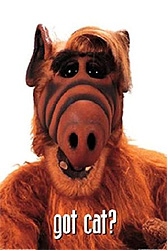 Quem não se lembra dele? O famoso, o aclamado, o imortal... (som de tambores)... Alf!
Sim senhor, o extraterrestre da nossa infância e dos nossos corações (o E.T. que vá dar uma volta!... e leve a bicicleta!)... Alf, sempre a chatear, sempre a estragar, sempre a inventar, sempre a comer, sempre a perseguir o gato (Lucky)... Suspiro (Those were the days...)
Aqui ficam alguns dos momentos:
(Lucky has died and the Tanners are having a funeral for him.)
ALF : I'm reminded of a prayer he used to recite every night before going to bed : "And if I die before I wake, chicken-fry me like a steak."
(...)
ALF : Where I'm from, this is ludicrous! It's like having a funeral for a hamburger!
ALF : If you love something, let it go. If it comes back to you, it's yours. If it's run over by a car, you don't want it.
Brian : Do you get Sesame Street where you live?
ALF : No and I don't get it here either.
(Neal picks up a tape recorder from ALF´s bed.)
Neal : Hey I could really use this.
ALF (from the tape) : Like a virgin, touched from the verry first tiiiiimeee, like a viiirrgiin ...
Willie : Speed it all up, you don't want that.
Dorothy : You don't have to make rude noises!
ALF : That's okay, I don´t mind.
ALF : Justice will not rest!
Kate : What if I gave justice a cookie?
ALF : Justice will think about it

.
ALF: Grease fire! Grease fire! Never mind the curtains! Put me out!
ALF: Turquoise alert! Turquoise alert!
Brian: It's raining cats and dogs!
ALF: Raining cats?! You open the skylight and I'll get the relish!